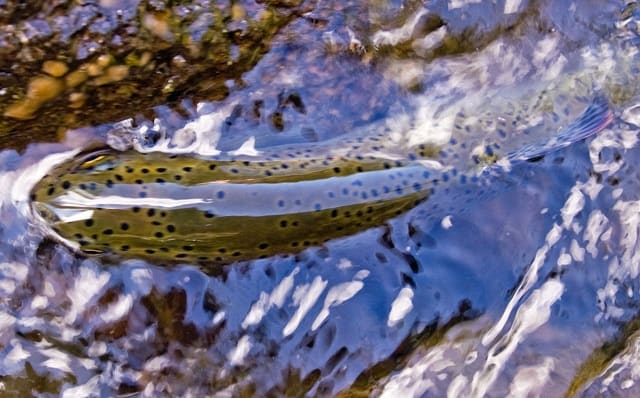 Over the past few years I have learned that nymphing is to me the most productive way to fish for trout. Growing up at an early age I didn't have the understanding of fly fishing as I do today and even that I still learn new things every day. As a small child I always used dry flies thinking that was the only way how to fly fish and not doing any studying till the age of 16 I used dry flies and terrestrials even when they were not in season. Now having an understanding of the seasons and bug life from studying and learning from mentors, I grew my ability and I'm still growing my knowledge.
Going through trial and error I seemed to get a good feel and understanding for the style of nymph fishing. By the time I figured out how to fish the rivers with certain patterns like Price Nymphs, Pheasant Tail Nymphs, & Caddis Nymph Patterns etc. it changed my whole thought on the fly fishing game. In the beginning of fly fishing with nymph patterns it always seemed like I had no chance in catch rainbow trout, cutthroat trout, brook trout, and the ever so populated rocky mountain whitefish.
Thinking that this size 14-10 nymph patterns were much too small and that this single fly over thousands of other natural bug life in the rivers system, it made me very frustrated to think I was doing something wrong. I've grown to learn that knowing and understanding certain techniques will always aid in my ability to adapt to new fly fishing methods.
Eventually after watching hundreds of YouTube videos and reading dozens of books I started to get a hang of things. Water temperature is key when it comes to certain types of river bug life, knowing these temperatures that match the bug life is what most anglers look at, there are all season nymphs but when it comes to the spring, summer, and fall months there are dozens of patterns that works through those months of the year.
Let's get started on how to rig up your nymphing setup. First find out the depth, water temperatures and a 9-12 ft leader on a float line. Depending on the depth of the river you might need small split shots that will help sink your fly down faster. Starting off I'd suggest using indicators which you can buy at any local fly shop. I usually set my indicators at double the depth of the river, this will offer the fly to the trout at a more presentable approach. Casting your fly up river above the pool or run will allow your fly to drop to the depth you measured your indicator at, and you will be able to cover more water casting at a 45 degree angle and retrieving back at a 45 degree angle.
Mending is very important when nymph fishing and especially when using indicators. Making your fly look as natural as possible is what fly fishing is all about, so having any drag is not a good thing. I always make sure that my float line is behind my indicator which lets my fly and indicator float as naturally as possible with the river.
Having that drag free drift can be a bit difficult when setting your fly, always keeping your eyes on your indicator is key, you could see your indicators doing repetitive submersion's, this will either indicate your fly is being nipped at by trout, or your hitting the rivers bottom which will give you the indications to move your indicator down your line. When setting your hook once your indicator is submerged pull your line tight and lift your rod tip high, just make sure it's a gentle smooth motion all at the same time, otherwise you might lose your chances of hooking the fish by pulling it out of the fishes mouth or end up pulling in across river.
Nymphing can be intimidating but is very rewarding, remember a trout's diet is 90% below the rivers surface, and not always on the surface is what they are feeding on!
Good Luck on the water and Tight-lines!
Andrew Watson