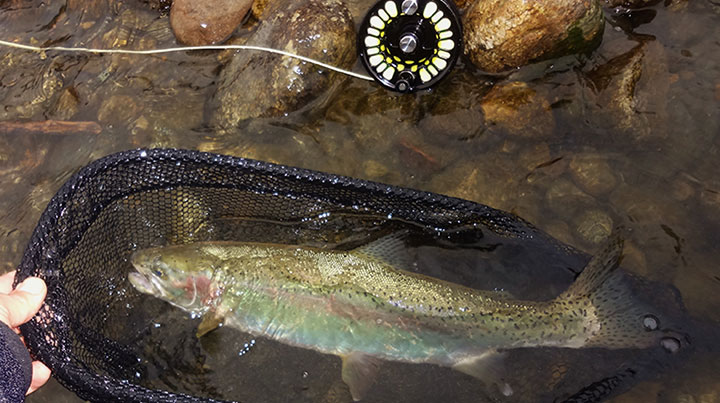 The later months of winter can be a great time to hit the rivers with the fly rod! Some of the most popular techniques to winter fly-fishing rivers are nymphing and indicator fishing with egg patterns. Although these methods can be productive, there is one technique that is often overseen by anglers and that is swinging a streamer fly.
Whether you are a beginner fly angler or an experienced one, swinging a streamer is a very simple and productive way to catch Rainbow trout in the winter months. Traditionally Steelhead anglers use this technique but a well-swung fly can be irresistible to a Rainbow Trout!
Unlike "dead drift" fishing where a bite can be hard to detect, this method allows you to keep direct contact with the fly that allows you to recognize a strike very easily!
There are a few items to take into consideration when using this method. The speed of water flow is crucial. You will want to find runs that are in a walking pace current between 3 to 6 feet of water. Having small pieces of structure within the run will also help break up the water flow and may be used as ambush points for the Rainbows.
The Mechanics of the Swing:
The idea is to present the fly as if it was a small bait fish swimming across the river, providing the trout with a side profile look at your fly.
Start by casting approx. 90 degrees across the river to 45 degrees down stream. Once your cast is complete immediately make an aggressive mend to your line between the 90 & 45 degree mark. This will provide a dead drift to your fly allowing it to sink. You want to keep your fly presented just off the bottom.
Once your fly gets to 45 degrees it will start to swing. Once the swing begins, be sure to follow the swing with your rod pointing to the fly. This will provide that side profile swimming action that will entice the trout to strike.
Once the fly finishes swinging and is perfectly down stream from you, wait a few seconds before strip returning. Sometimes the strike will come at the end of the swing as it imitates a small prey fish getting adjusted to the slower moving water after crossing the fast river flow. Once you've waited about 5 seconds start to strip the fly back towards you.
Take 2 steps down the river and repeat the cast and swing. Taking a couple steps down river each time helps you cover water and to locate those active trout.
Recommended Gear:
Due to streamers being a heavier weighted fly and the use of heavy sinking tips, a 6wt fly rod will provide you with the tool needed to get your fly further out, control the fly and fight the fish. If your streamers are weighted a #3 sinking tip will be adequate, non-weighted streamers you'll want a faster sinking tip like a #6.
Fly Patterns: There are a variety of patterns that can be used for swinging flies and it's best to go visit the local fly shop to see what is most popular in the river you plan on fishing. Sometimes using bright coloured streamers can really get that curious trout to strike. Sculpin patterns are also an effective pattern in later winter, especially when fishing larger rivers like the Columbia! Even Woolly Buggers and Muddler Minnows can work well. Experiment to find the one that works for you!
Here's a great video by Reds Fly on breaking down this method…enjoy!