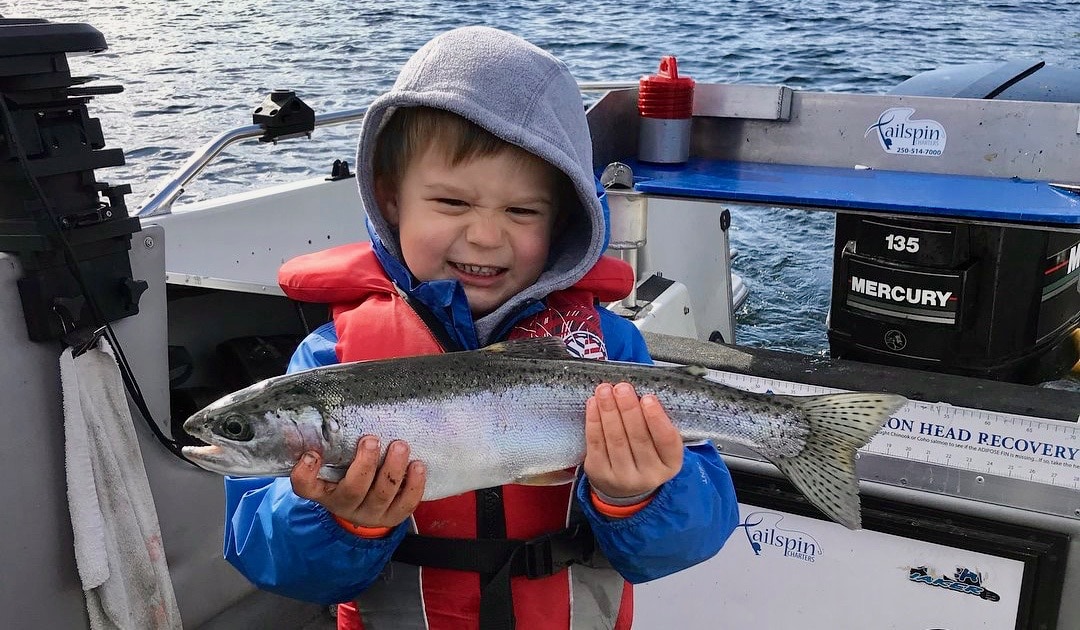 The ski and wake board boats have been put away for the season and the sizeable lakes are now wide open for us anglers to enjoy to ourselves. The fall period is one of my favourite times of the year to pursue Rainbow Trout because the cooling water temperatures can produce aggressive feeding frenzies that make for an action packed day of fishing.
So why is the fall such a prime time to pursue Rainbow Trout? In a nutshell, Trout are cold-blooded and they have a preferred temperature range that they're most active in. During the summer months the water temp is higher than the trout's preferred range, which slows their metabolism bringing them to a somewhat lethargic state. The cooler autumn air drops the water temperatures bringing the trout out of their lethargic moods and triggering them to feed. During this period the fish need to put on as much body mass as possible in preparation for the long winter months ahead.
There are prime areas within the lake that anglers can target to locate these aggressive trout. Unlike in the summer months when the fish are down deep, the cooler surface temps allow the trout to feed much higher within the water column. Most of BC's larger freshwater bodies have Kokanee within the system that makes up for a large portion of the Rainbow's diet. In the fall the mature Kokanee are starting to migrate up the inlets to complete their spawning cycle. They travel in large schools making them easy pickings for the opportunist Rainbow Trout to ferociously feed upon. These schools of Kokanee can be located staging in areas of the lake that are adjacent to inlets and gravel shorelines. Trolling these zones with a lure that mimics a Kokanee can produce excellent results.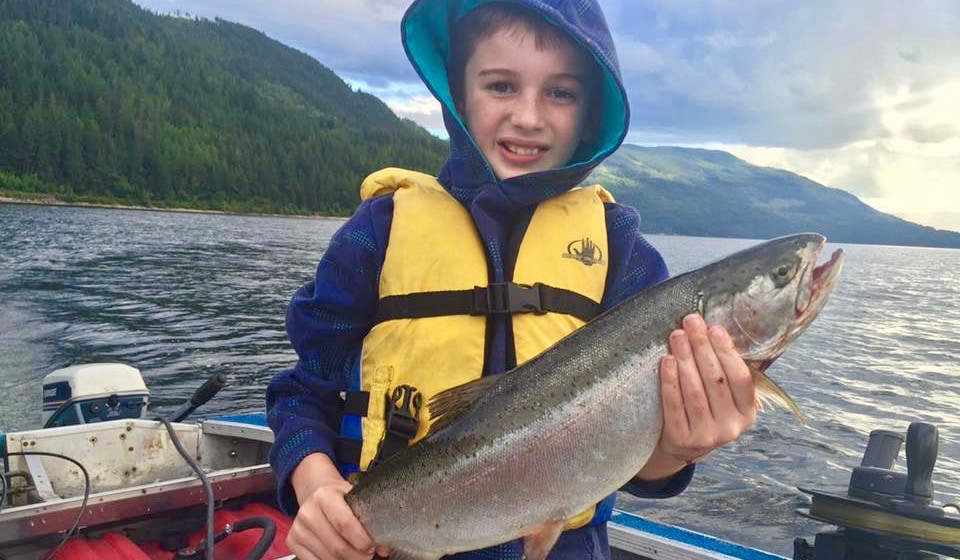 Since the trout are aggressively feeding trolling speeds can be much faster than when fishing in the summer months. Using lures that are made for faster trolling applications tend to yield greater results in mid to late fall.
Some of the most experienced anglers will agree that the top two trolling applications during dropping water temperatures are fishing plugs and bucktails. Both of these lures mimic the perfect forage that the rainbows are searching for and they can be trolled faster to entice that hard-hitting trout.
Bucktails are fishing flies, which are made to imitate baitfish such as Kokanee. These flies are typically trolled right on the surface at a minimum of 150 feet out the back of the boat. The reason for long setbacks is because trout are timid of boat noise and will veer around your vessel. You need to ensure that you have long enough setbacks that your lure will get in front of the fish once it drops back. Using side planers for this type of fishing application will improve your results, as it will swing your presentation right in front of the trout when it is pushed aside from the boat.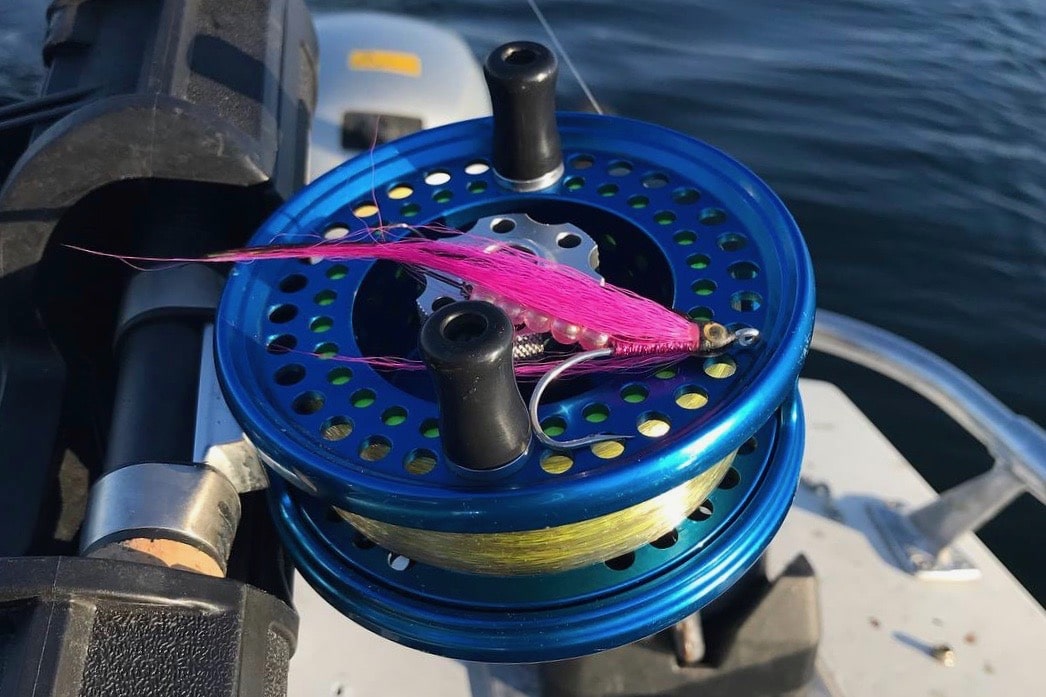 They key to bucktailing is to make sure the fly is running true in the water and not rolling over or leaning to one side. It is important to tune your fly so it runs straight at higher trolling speeds. A good rule of thumb for trolling speeds when fishing bucktails is by using the surface water temperature as a gauge. Normal trolling speed when bucktailing is around 3mph, but when if the water temp is higher than 60F then you can troll around the 3.5-3.7mph ranges and if the water temp is lower than 40F troll slower around 2.5mph. Since you'll be trolling much faster when bucktailing it's a great way to cover more water to locate active fish. Be sure to set your drag because when a big trout hits a bucktail at these faster speeds it will quickly rip line off the reel like no other!
Colour selection for Bucktails can vary between water bodies. However following the standard directive of darker colours on darker days, and lighter colours on brighter days tends to prove true.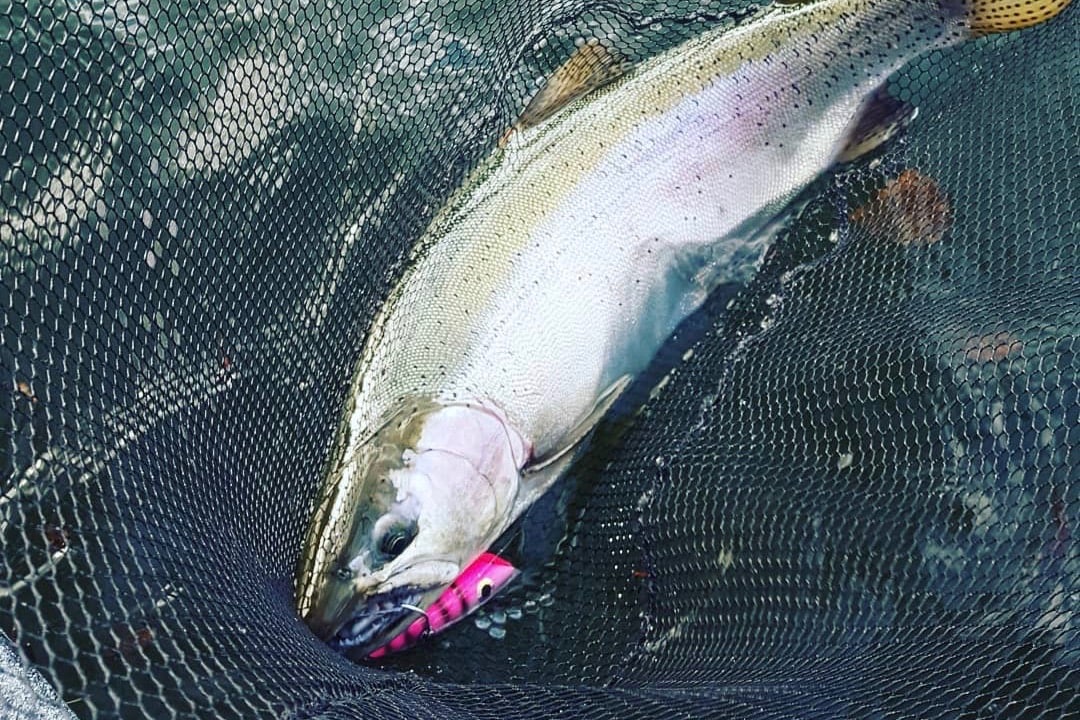 Trolling 4-inch plugs such as Lyman Lures or Fishinator Lures are my other go to lure when targeting fall rainbows. The 4-inch profile creates a wide swath with a super erratic action that tends to drive feeding rainbows into striking your gear. I find trolling speeds that produce the best when running plugs in the fall can vary from 2.5 to 3mph. Before letting the plug out always check to make sure that the plug is working right, this can be done by putting the plug in the water alongside your boat at trolling speed. Most wooden plugs can be tuned by turning the eye of the plug to create more action. Using colour patterns in brown/orange, Red/black or Purple/white can be very productive as these colours are similar to a mature spawning Kokanee.
September, October and into November are prime months for fishing Rainbow Trout throughout the west. Consequently you don't want to put your boat away too soon as you could miss out on hooking into some of the most hard-hitting trout of the year.