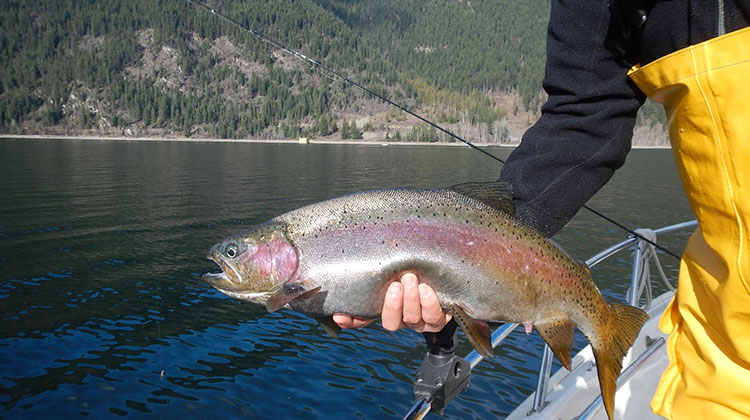 Late winter and early spring is that time of the year when rainbow trout are starting to get ready to spawn. Soon-to-spawn male trout bucks are much easier to identify than the females.
The girls can sometimes appear to be still silver or just have a slight hint of "greying" to their scales. Biologists have seen many a anglers come into the boat launch, while conducting fishing surveys with female trout that they were sure were NOT spawners….. But unfortunately they were!
Some obvious and not so obvious hints to recognize females preparing to spawn are:
1) Obviously – a great big belly ! and a belly that is soft and floppy. Sometimes just the belly area is fat and there is a more "normal" look to the fish from the anus to the tail.
2) A distended ovipositor (anus). See picture attached. The anus is often sticking out a bit in many spawning females. Easy to identify if you take a close look.
3) Not always but most of the time – the red streak down the side of the fish is prominent. Especially be cautious in the spring time (March to June).
4) Where you caught the fish! Near rivers or creeks is obviously an area you will more likely find mature females (Springtime).
Protecting female spawning trout by releasing them during the spawn will help sustain our fisheries for years to come!
This information has courteously been provided by Jason Webster, Fisheries Biologist with Chara Consulting. You can follow Jason on his Okanagan Anglers 101 Facebook Page.