Who doesn't love grilled fish tacos! They are nutritious, yummy and easy to prepare! Here is an easy fish taco recipe that you can use for any white meat fish of your choice!
Grilled Fish Tacos with Chipotle-Lime Dressing
Serves 8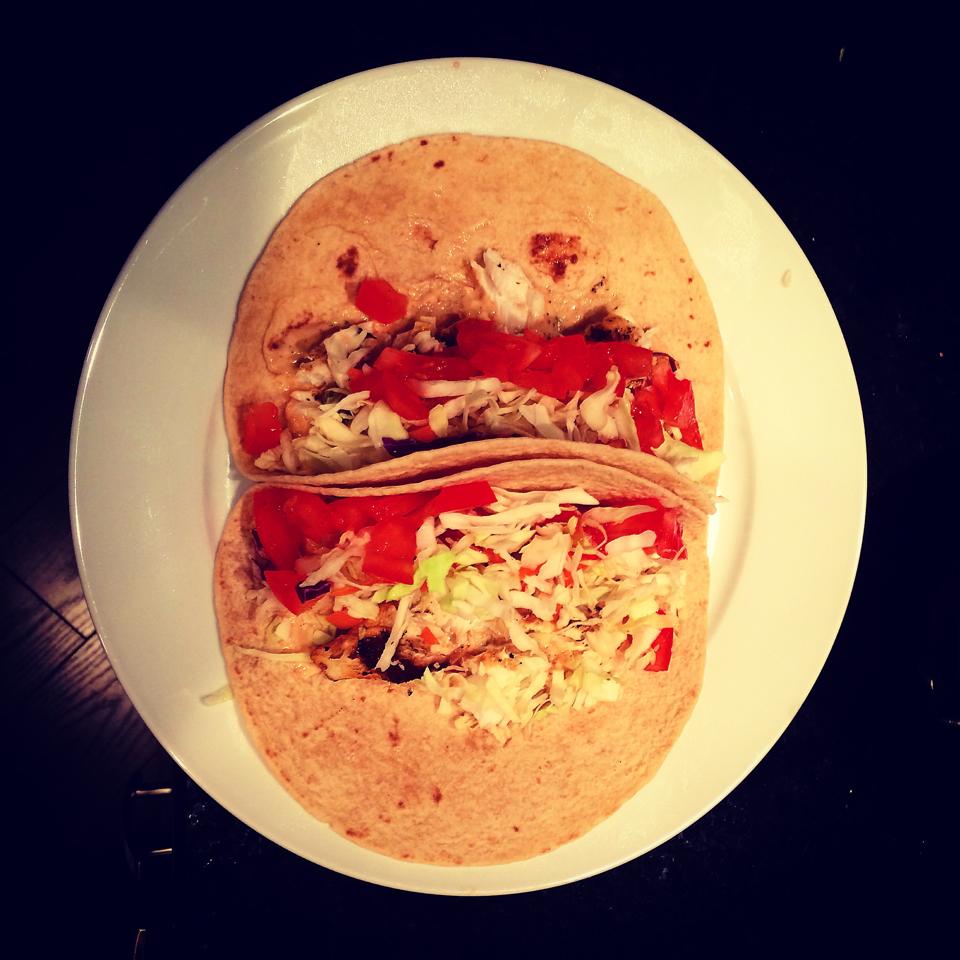 Marinade
1/4 cup extra virgin olive oil
2 tablespoons vinegar from canned Jalapeño peppers (optional)
2 tablespoons fresh lime juice
2 cloves garlic, minced
1/2 teaspoon cumin
1/2 teaspoon chili powder
1/2 teaspoon ground black pepper
1/2 teaspoon salt black pepper
2 pounds of white meat fish of your choice. (We used Halibut)
 Dressing
1 (8 ounce) container light sour cream
1/2 cup adobo sauce from chipotle peppers (you can replace the adobo   sauce with chipotle spice to your tastes)
2 tablespoons fresh lime juice
2 teaspoons lime zest
1/4 teaspoon cumin
salt and pepper to taste
 Toppings
16 corn tortillas
2 Vine Ripe Tomatoes
2 cups shredded red and white cabbage (or simply use pre-made coleslaw mix!)
2 avocados coarsely chopped
2 limes, cut in wedges
 Directions
To make the marinade, whisk together the olive oil, vinegar, lime juice, garlic, cumin, and chili powder in a bowl until blended. Place the fish fillets in a shallow dish, and pour the marinade over the fish. Cover, and refrigerate 1/2 hour.
To make the dressing, combine the sour cream and adobo sauce in a bowl (or add chipotle spice to sour cream and stir in evenly). Stir in the lime juice, lime zest, and cumin. Add salt and pepper to taste. Cover and refrigerate until needed.
Preheat an outdoor grill at high heat and lightly oil grate.
Remove fish from marinade, drain off any excess and discard marinade. Grill fish fillets until easily flaked with a fork, turning once, about 9 minutes. Cut into chunks.
Assemble tacos by placing fish pieces in the center of warm tortillas with desired amounts of shredded cabbage and avocado; drizzle with dressing. To serve, roll up tortillas around fillings, and garnish with lime wedges.

Pairing Note: Pair this dish with a Quails Gate Chenin Blanc White Wine. The crisp lemon and lime exuberance of this wine truly compliments this meal!
 Enjoy!!!