Majority of freshwater anglers know that a successful method to get more fish into your boat on bigger water bodies is by trolling buck tails. Buck tails have been fished for numerous generations throughout BC and the Pacific Northwest as they are one of the most reliable presentations when the fish are feeding near or on the surface.
There's a good variety of tackle manufactures that make buck tails, however Lyman Lures has taken these flies to the next level! Lyman Lures has been making fishing lures for over 65 years and they have now used some of their best producing patterns and incorporated them into the Lyman McFly line up of buck tails! Lyman has recruited the help of Duncan McKenzie whom is a superb world experienced angler and fly tier to assist in developing these flies. Duncan's world of experience, innovation in fly tying and fishing is truly reflected in each of these lures!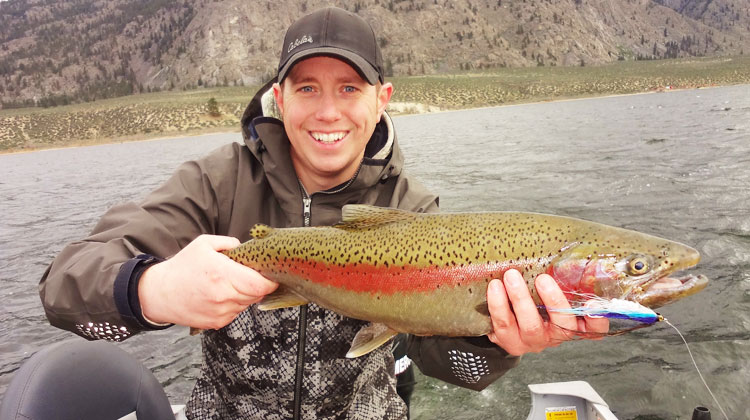 The McFly line up has been tied with Premium Northern Buck Tail and top quality of materials. Between these superiority of materials and the fine attention to detail; this is what makes these flies stand out from the rest!
When we at BC Fishn first got our hands on these flies we quickly noticed the precision of craftsmanship that has been put into each McFly. The fly runs very balanced through the water and mimics a forage fish excellently! One unique step that Lyman Lures put into developing these buck tails is adding a body like design to the fly by using beads that run to the trailing hook. These beads no doubt create extra contrast when running in the water and add to the life like presentation. For the BC Interior lakes we would recommend to start off with models: Kokanee #98, Pink Lady #47, Purple Jesus #160 & Smiling J Shad #187.
The Lyman McFly buck tails can be trolled from the rod to the lure with nothing else added or from a downrigger or planer board. The flies work prime with speeds between 2-5mph. Like any other buck tail the McFly can also be run behind a flasher or dodger for the added attractant.
So the next time you are about to hit the big lakes of the Pacific Northwest be sure to check out the McFly by Lyman Lures! We are sure happy that we did as we quickly increased our hook up results while out on the water rippin flies on the lake surface. You too will quickly realize the quality and workmanship in these lures that are second to none!
For more information on buck tail fishing or the Lyman McFly buck tails please feel free to contact us below. Don't forget to check out our BC Fishn Facebook page to share your fishing stories and photos!
Tight lines & please take a kid fishing!
Danny Coyne
Danny@BCFishn.com