Ok lets face it, us humans stink. That's right I said it, the way we smell is not attractive to a fish. We consist of unnatural smells that can repel fish faster then using rotten bait. Whether it's a small amount of gasoline on your hands from using the power auger or maybe it's the deodorant bar of soap you used that morning. Simply put, many odours can contaminate bait and lures while ice fishing. So what do we do about this?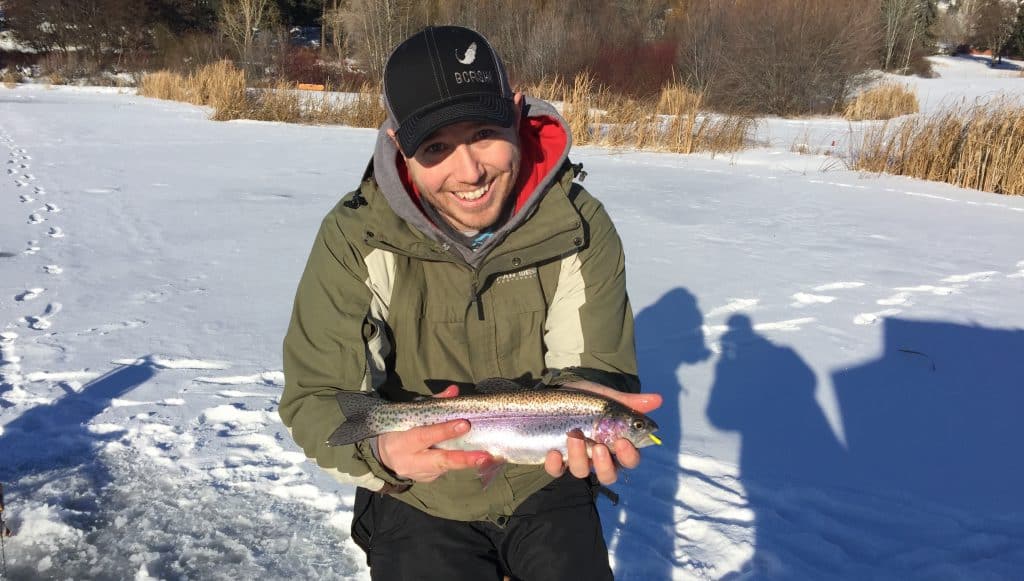 The answer is simple. Use common scents!
One of the most under utilized tactics overlooked by anglers during the hard water season is adding scent to the bait and lures. But yet, during the open water season most of experienced anglers have a variety of scents in their tackle box.
Fish can be extra picky in the winter. They have slower metabolisms and due to this they consider their food sources much more. Fish have an incredible sense of smell! If you've ever seen underwater footage of a trout taking a piece of bait while ice fishing, you'll notice that the fish inhales the bait. If they don't like what they taste or feel they'll spit it out before you even notice you had a bite! This is what I call passing the taste test!
Using scents does a number of things:
Eliminate Unnatural Smells! It's not easy to simply wash your lures while out on the ice. So eliminate the unnatural smells by masking it with scent.
Attract the Fish In: As mentioned above, fish have an incredible sense of smell! The scent will help you attract the fish closer to your bait and lure. The added scent will provide natural forage scent that encourage the fish to hang onto the bait a bit longer allowing time for a solid hook set.
Powerful Amino Acids Entice a Fish to Strike! Curing or scenting your baits such as shrimp with Pro-Cure Shrimp & Prawn Cure loads your bait with complex amino acids that increases scent and adds triggering components to get the fish to strike! When choosing a scent or cure, be sure they are supercharged with amino acids!
When choosing a scent for the ice fishing it's best to use scents formulated for cold-water conditions, such as the Pro-Cure Mr. Ice Hole – Trophy Trout Ice Gel. These scents are also made up of real whole baits which helps win the taste test!
While using scents when ice fishing you can add it to live bait, soft plastics or even a lure. Remember to re-scent every 20 minutes, as the scent will eventually wear off in the water.
During the prime feeding times use scents that are natural attractants to a fish such as Krill, Shrimp, Dew Worm, Corn or Mixed Formulas with familiar baits. Once the bite dies off switch to scents that are irritants to the fish such as Garlic and Anise. These scents provoke a strike more out of anger than the desire to feed.
Along with using scents, being prudent and aware of what your hands and tackle are coming in contact with is just as important. Keeping a second pair of gloves to use when using the power auger or handling unnatural smells will always tilt the scales in your favour.
Remember that in the winter periods there are a lot less scents under the ice. So put the odds in your favour when pursing these hyper-aware fish by applying these simple steps. You will quickly become a fan of using scents for ice fishing!