When targeting Kokanee through the ice having the right selection of tackle is crucial in optimizing results. Here are a few key items to take into consideration when ice fishing for Kokanee.
Unlike Rainbow Trout, Kokanee are found suspended over deep water, from depths of 50 feet to over 150 feet. The reason for this is that Kokanee's diet mainly consist of Zooplankton which is found suspend within  deeper water. In the winter months the lakes do not have established thermoclines which means the Kokanee will move throughout all depths of the lake due to cooler water temperatures and oxygen levels. Kokanee can be found from 10 feet deep all the way down to over 60 feet.
Since Kokanee can spread out in all depths the angler needs to attract them in. This is done by jigging some sort of an attractor, such as the Mack's Lure Sling Blade Dodger. We prefer to use the 4.4 Sling Blade Dodgers as it provides the perfect amount of flash and displacement in the water to attract the fish to our gear. Just like open water fishing, having a variety of different colours will help with different light conditions and water clarity. Three types of Mack's Lure Sling Blade Dodgers that work well are the UV series, solid colours which will create contrast within the water, and glow patterns. Having these 3 types of dodger variations will help in all light and water conditions. When rigging your dodger be sure to add a slight bend to the Sling Blade so that it will transfer action to the lure as it flutters in the water, hence creating attraction to the fish.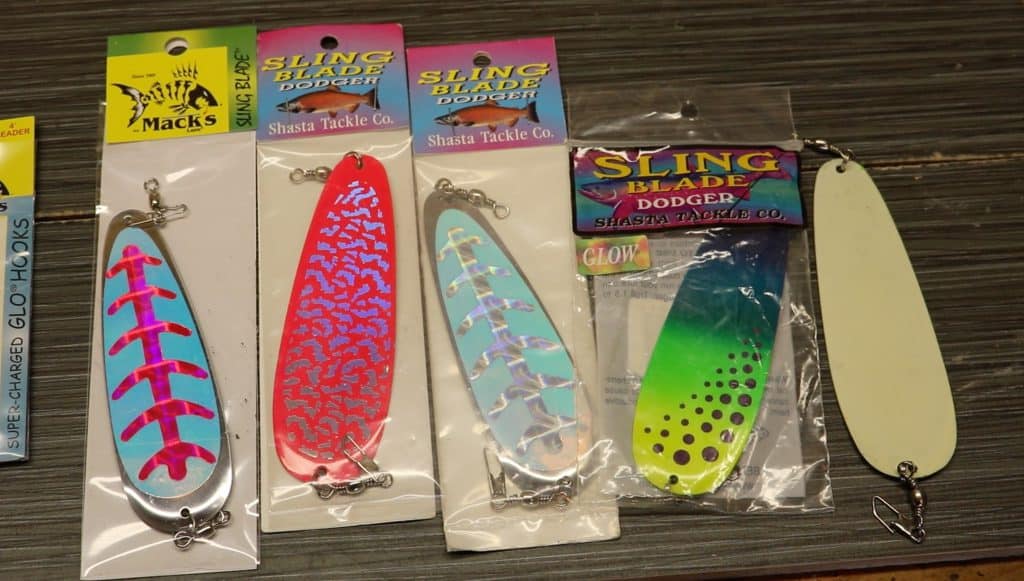 The dodger is what attracts the fish to your gear, but what you put at the other end is the business end that entices the Kokanee to strike! Majority of the time we are using Mack's Lure Glo Hooks. These Glo Hooks are excellent as they hold their glow charge from 15 to 20 minutes. It's a good idea to recharge the hooks every 15 minutes for best results. Running leaders between 12-14 inches to the Glo Hook works best as the dodger will transfer the right amount of action to the hook. The 3 staple colours of Glo Hooks to use are the Red-Cerise, White Glow and Chartreuse. Size 4 and 6 size red hook series are my go to for Kokanee fishing. Remember to add a small split shot weight 2/3rd the way down on the leader so that the hook doesn't get caught up on the Sling Blade when jigging.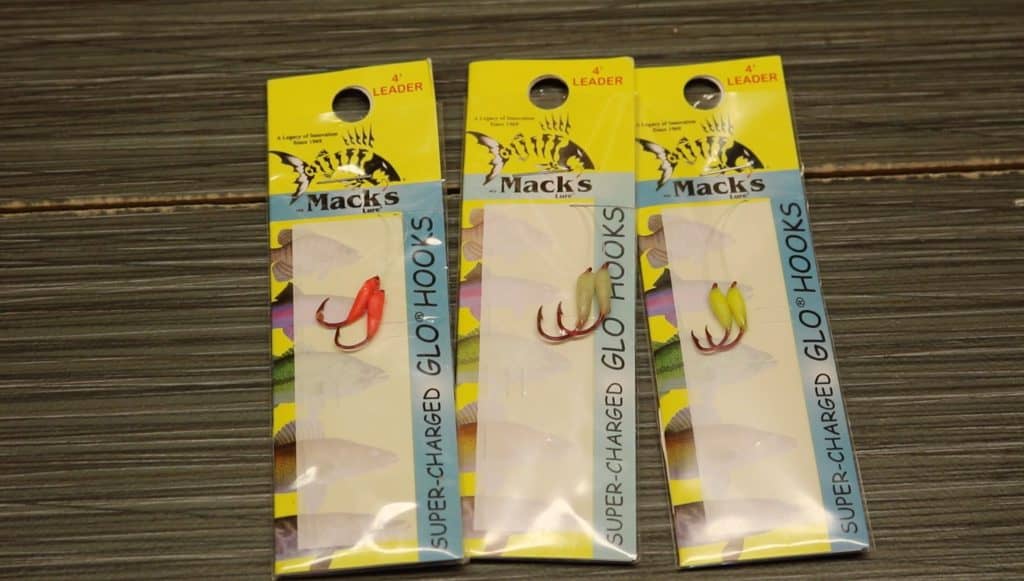 When the fish are a bit more scattered I prefer to use some sort of jigging spoon or jig. The UV or Glow Hum-Dinger spoon by Mack's Lure provides a horizontal fluttering action that will help attract fish from a far. The Hum-Dinger also helps to fire up a frenzy when the Kokanee are being more aggressively mannered. The second jig that works well is the Mack's Lure Sonic Bait fish, by far this is one of my most preferred jigs for ice fishing. The Sonic Bait Fish in 1/10th size supports a faster action jigging when needed. Popular colours to use is the glow pink and orange. When running a jigging spoon it's vital you run a bit longer of a leader from the dodger than when running a Glo Hook. A 14-18 inch leader will allow room for the jig to flutter on its own without being interrupted by the Sling Blade's action.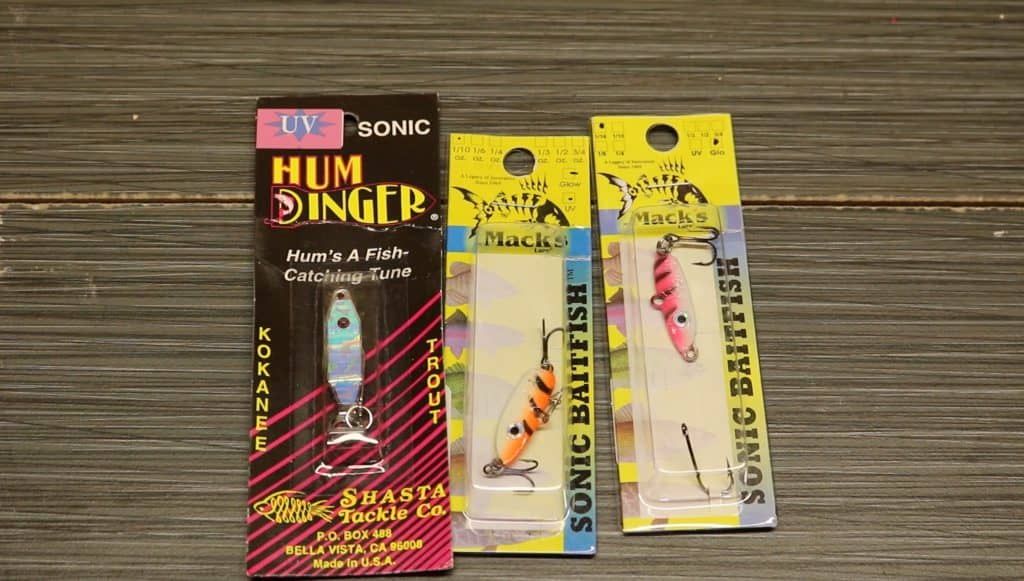 When ice fishing for Kokanee it's imperative to constantly jig your gear. This is done for multiple reasons; first so that the fish are attracted in by the dodger and secondly, so that you can detect the subtle bites. There are 2 jigging motions which you will need to master. When the fish aren't around, pull your gear up 12-24 inches then quickly drop your rod tip. This will create a pulsating action to your dodgers that will attract the fish in from a far. Once you detect a bite or notice fish on the sonar, slow the jigging down and create a smoother motion, just like a smooth paint brush stroke. In all cases, jig a couple of times, then stop, wait a couple seconds and repeat.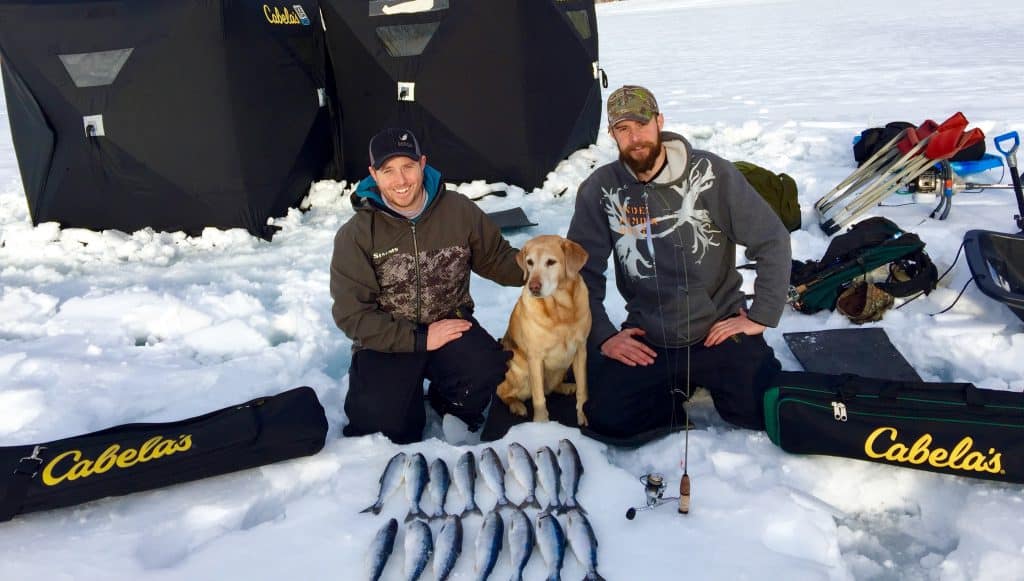 It is imperative to add bait onto your gear to give the fish a reason to strike. Popular baits when ice fishing for Kokanee are live pink maggots, synthetic pink maggots, shrimp and cured white shoepeg corn. Adding Pro Cure scents such as Bloody Tuna, Krill, Shrimp or Garlic scent can make the difference between the fish just checking out your gear to the fish attacking your lure! Garlic scent is an excellent irritant to Kokanee so using this scent in the afternoon between feeding periods will help encourage that lethargic "lookie-loo" Kokanee to bite out of anger instead of just cruising by.
Fishing for Kokanee is an excellent late ice fishing season option as these fish are suspended in deeper water where the oxygen levels are still high. The Kokanee remain active until the ice starts to melt. Be sure to always check ice conditions before going out as ice conditions can change from day to day on these deeper lakes.