The first thing I would like to say is; I don't see myself as an expert on this topic. I'm more of your average fly angler with a couple of year's experience and a drive to help people take their first steps into a hobby that they may not know where to even begin with.
I believe that sharing and gathering information is the foundation of a great fishing community, so think of this as a loose guide or basic introduction to the chironomid style of fishing.
For the last 2 years I have dabbled in chironomid fly fishing. However, it was not till I went fly fishing with my good buddy Carlo, that I looked at it in a different light.
Most of my experience is in river fly fishing with dry flies, and I have always found that fly casting is a a ton of fun. Trying to get the perfect loop every cast, then watching the dry fly on top of the water, waiting for that slurp or splash of the trout has always been the ticket to a great day of fishing for me.
So the thought of sitting there, not casting regularly and watching a strike indicator was a little off putting to me. On my first trip with Carlo he said that was the way most of them fish up there, and I should give it a shot for the day. On the way there he helped ease me into the idea with stories of Roco and his 60 + fish days, and that they could get up to 12 lbs. Despite my worries, he definitely had my attention.
We headed out bright and early one Sunday morning to hit Sawmill lake. When we arrived and set up our pontoon boats we were greeted by Roco and a couple others. They told us how the fishing had been, what they had luck on, and showed us their chrionomid collection. These were my kinda fishers; everyone helping each other and very open about their gear. Like most good fishermen at a catch and release lake, they knew there would be lots of fish for all of us!
So, with our game plan in place we paddled out to find a spot. We dropped anchors, cast our lines with large strike indicators on and started our wait…
Within 20 minutes Carlo gets a strike! Down the indicator goes and his reel strips off line as he yells, "Holy cow!" He lands it and pulls up a perfect 5lb rainbow for the picture, and then a clean release. Needless to say, I was interested.
Then, just 20 minutes later he gets another one! I was a little put off, thinking it might be a day of taking pics for my buddy, so I pulled my line in, adjusted the depth and then the fun began… Boom! Boom! Boom! Boom! In the end, It was a great day of chironomid fishing and made me a full believer in this style.
Let's Get You Started
Let's start off with the basics. With chironomid fishing you have to keep in mind that there are many paths to take; floating and sinking lines or strike indicator vs. no indicator. There are different kinds of line to use; mono or braided for the leader, swivels and rings, and more. To make things easy, I'm going to describe what has worked best for me so far. Just keep in mind that this is one of many ways to the same end and after this is published, I'll be using another method as there are so many to try and the results are always rewarding!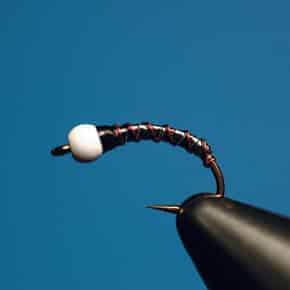 The fly or chironomid itself is very small, almost just the hook most times. Honestly, if you had showed me one 10 years ago I would have thought no fish would ever bite at it as there's just nothing on the hook. However, when compared to an actual chroni they're very close; definitely as small and very similar. Just for an example of how size can be deceiving, one time my friend Gordon told me the biggest fish they had caught at Hathume Lake was snagged on the smallest hook size – 16.
The chironomid has 3 different life stages: larva (blood worm), pupa and adult (terrestrial). What we try to imitate with chroni fishing is the time when the pupa starts its slow wiggle to the surface because when they are emerging this is also when they are most vulnerable to fish.
When I go to a lake I have never been to before, I look for clues on how and what to fish and what's hatching. Sometimes these clues are very visible, and sometimes not as much. For me, I always keep a small net with my pontoon boat to scoop the water and see what's in it. I also look for swooping birds as they are a great sign of a hatch in progress. I will paddle out and look closely at the water to see what's emerging, then scoop one up to try and match it as closely as I can in size and colour. Then I tie one on and start the fun!
For gear, the first thing I would recommend is a 10 foot fly rod. If you're casting from a pontoon boat like myself, it definitely helps. That being said, any rod will work. The line I use is a weight forward floating fly line. I also have used sinking lines, but for now we'll stick to floating line.
Then I have my leader. I prefer not to use a tapered leader because the thickness at the rear causes a little trouble with slip on strike indicators. A level leader will also help you get a more vertical presentation.
I tie my own leaders and just use non-tapered mono going from 20lb to 10 to 4lb. This will be 9-12 feet. I like to use the 12 for the ability to fish deeper.
I know long leaders are harder to cast, but remember, you're not focused on casting as much with chironomid fishing.
I then put on my 5x Fluorocarbon tippet. I have found fluorocarbon to work best and is less likely to be seen. This tippet is about 5-8 feet long, depending on the depths I'm fishing.
After I have tied all my knots I place on a strike indicator. Personally, I like slips because so you can very easily adjust it in seconds. Now one thing to always remember here when using slips is you have to pull the black tab out, then loop the line and squeeze it back in. This must be done gently or it will not release when you get a fish to strike your hook but if pushed in too gently, it will slip open and slide right to your fly. When you cast this will happen once in awhile. It takes some practice to master, as finding the perfect point of pressure on the strike indicator can be tricky.
Just trust me, trying to grab the indicator and manually releasing it when you have a 8 lb Pennask Rainbow on is not a fun thing to do! When you have 20-24 feet of leader if it does not slip; you won't get your fish close enough to net and land safely. The fish will still being 10-14 feet below the surface.
Now we tie on the desired chironomid pattern. I always start with a weighted bead head to go deep, then work my way up with non-beaded ones. This is where a depth sounder can come into play. I would highly recommend one, as they can accurately tell you how deep to fish. For instance, the depth finder says 17 feet deep so you run a set up with your strike indicator at 15-16 feet so your just off the bottom. Aside from charting the bottom, it will help you chart the depth of the fish themselves. Say you've found the depth is about 17 feet, and you're running your chironomid at 16 feet and not catching any thing. Well then your fish finder says there are some fish at 11 feet and now you have a guide at what depth to run. So you pull your line in and set the indicator to 11 feet thanks to your electronic friend!
I run anchors on my boat to chironomid fish. When I started, I only ran one rear anchor and when the wind changed, I was blowing in circles. In some cases this is ok; but if you need to fish a drop off or if there is a boat next to you the last thing you want is to be crossing them. Sometimes with chironomid fishing there will be a huge hatch and many fly fishermen will congregate to a local area, only being 15-20 feet apart. That's when I recommend grabbing a second anchor.
Now I'll chart on my depth finder a good spot to fish, typically close to a drop off where fish can go for cover. Then I mark my spot, row back about 10 feet and drop my rear anchor. Then, with it un-cleated, I row forwards about 10-15 feet and drop my front anchor. I tie it off, then slowly pull on my rear anchor to move me back about 5 feet. With this method both anchors are out at an angle to help with wind spins. I use a 8lb hooked anchor in the rear and a 5 lb pyramid in front.
It will take a little time to get used to casting extra long leaders, but I promise the reward will be worth it!
No matter what depth I'm at, I set the indicator 1-2 feet above the bottom. I cast out and let it set for 5-10 minutes, then do a very, very slow retrieve. We're talking a foot a minute kind of retrieve. Very slow. If I still have nothing after about 20 minutes I pull it in and change the depth by a foot at a time and repeat until I'm about 5-6 feet from the surface. At that point I'll pull it in and change my chroni pattern and repeat this process. I have had great luck with this!
Keep in mind that, until you get used to casting the long leader, you can always cast out a 10-15 foot short cast and fish this close if you remember to stay very quiet and don't disturb the water. I have had luck on some very windy days doing this.
I hope this has given you a good introduction to this style of fly fishing. I had to watch many videos and read many articles to get this knowledge together myself.
Good luck to all, hope for the big ones and let me know how this worked for you.
Raymond Blake
BC Fishn team member