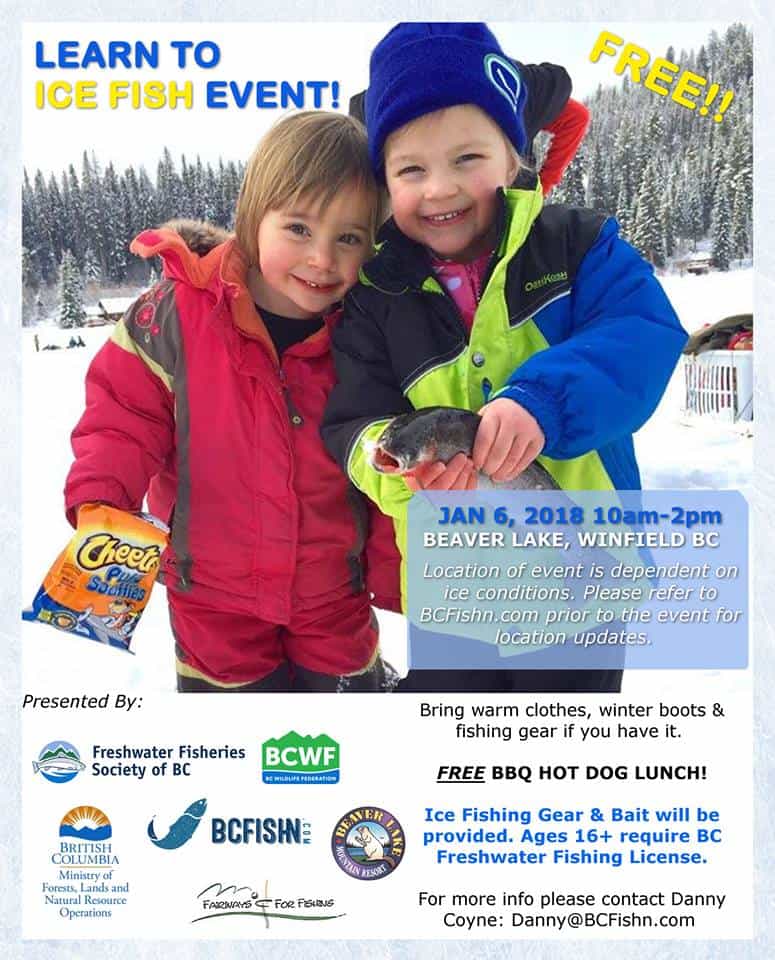 Residents of the Central Okanagan are getting the chance to ice fish despite the warmer weather.
Kids will be dipping their rods into the frozen waters of Beaver Lake for the fifth annual Learn to Ice Fish event, held on the outskirts of Lake Country, Jan. 6. This event is presented by BC Fishn, Freshwater Fisheries Society of BC, the Ministry and local BC Wildlife Federation Clubs, including Oceola Fish & Game Club.
Last year we were super lucky that Shannon Lake froze enough, but that doesn't appear to be happening this year. It's getting -12, -15 C at Beaver Lake right now, so that's going to make some good ice.
Last year's event in West Kelowna had about 200 people, but as the Winfield location is out of the way our goal is to break over 100 people! The ice conditions will be monitored prior to the event if it needs to be postponed. Fishing tents, underwater cameras and gear will be available and a BBQ lunch is provided. The targeted fish species will be Rainbow Trout.
Young families and those who have never ice fished before are welcome to attend! There is no cost and it's open to the general public with NO RSVP needed!
The more people we get engaged teaching the sport to, the more awareness that is brought about to our fisheries, the future of the management of our fisheries is based on this.
This event is dependent on ice conditions so please check back to BCFishn.com or the BC Fishn Facebook Page for any updates or venue changes.
Hope to see you there!