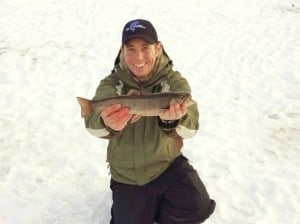 Located only 30 minutes Southeast of Kelowna is a fishing gem called Idabel Lake. The lake is a fantastic place to take the family fishing, especially during ice over. There is a small resort at the lake that is opened all year. Not only does this lake provide excellent ice fishing opportunities for the family, but the resort managers do a outstanding job in maintaining an ice rink on the lake. The entertainment of the ice rink can make up for those slower days fishing when you're with the kids!
Due to the easy access of this lake it is very popular for ice fishing. The road is always well maintained and ploughed allowing access for majority of vehicles. The lake normally freezes over enough to safely walk on the ice (6 inches or more) by mid December and fishes well into mid February. The lake is home to Rainbow and Brook Trout. In the winter months the Rainbows tend to become a bit lethargic where as the Brook Trout remain active and offer great fishing opportunities.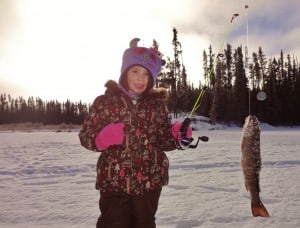 The fish average between 12 to 14 inches, but catching fish over 16 inches is not uncommon. Idabel Lake does receive a lot of angling pressure throughout the year. However, the Freshwater Fishery Society of BC does a great job in stocking the lake with between 3000 to 5000 Eastern Brook Trout annually to keep up with the angling demand.
The lake is long and narrow while nestled between a small mountain top valley. It has a surface area of over 40 hectares with a max depth of approx. 40 feet so it provides a lot of shoals and ledges that make up great fishing spots. One hotspot that produces well when ice fishing is south of the resort parking lot just 200m past the skating rink. Look for the cattail bushes along the shore and the weed lines; fish in water between 3 to 10 feet deep. The Brook Trout cruise the shallow weedy waters looking for invertebrates to feed on. Slapping your jig or lure against the weedy bottom and then pulling it up 6 inches will get the fish's attention to encourage a bite. Bait that tends to work best in this lake for ice fishing is dew worms and shrimp (the cooked stuff you get on a shrimp ring).
Like any high elevation lake, Idabel can become windy very quickly so dress warm in layers. This lake is known to be slushy on top of the ice with a few inches of water so it's recommended to wear rubber insulated boots. To get the most up to date ice conditions give the resort managers a call and ask for help, they are very welcoming! Or better yet, rent one of the clean and quaint cabins that are nestled along the lake for an incredible fishing weekend!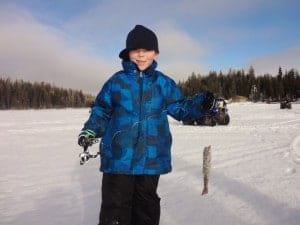 Getting There:
Travel southeast from Kelowna on Hwy 33, approximately 7.5 kms past the Big White Ski Resort turnoff, take a right onto the Okanagan Forestry Service Road. This area is well marked and has a large sign that reads Idabel Resort. Follow the service road until you see the turn off for Idabel Resort, again this turn is well marked.
Idabel Lake is wonderful area to escape for an afternoon with family and friends to experience some pleasing outdoor activities in the winter months. It's the perfect excuse to leave the hustle of the busy city behind for a day; grab your fishing rods and your ice skates and discover what is awaiting you at Idabel Lake!
For more information about Idabel Lake please feel free to contact us. If you have exciting fishing stories, tips or fishing spots that you'd like to share we'd love to hear about them! Please comment below and tell us all about it! Don't forget to stop by and share your fishing pictures on our BC Fishn' Facebook page!
 Tight lines & Conserve our Waters! 
Danny Coyne 
Danny@BCFishn.com