This article is from our Let's Talk Fishn' Column on Castanet.net. A column that BC Fishn'  produces bi-weekly. For more Let's Talk Fishn' articles check out our Castanet Column! 
Fly fishing with spinning gear? Really? That's right! There are numerous good reasons why an angler would fly fish using spinning rod and gear. Not all anglers have an arsenal of different types of fishing rods at their disposal. Acquiring multiple fishing rods and tackle for different methods of fishing can also be costly.
I grew up on the Similkameen River and this is where my love of angling started. I spent many days learning to fish for small feisty rainbow trout. My go to lure as a young angler was by far a yellow/brown Panther Martin Spinner. Most days I would have success catching fish. However, I will always remember the day when I couldn't buy a bite and watched an elderly man walk down to the river, casted out a float and started catching fish! I politely mentioned to my fellow angler that the river has a bait banned in effect; assuming he was casting a float with a baited hook. The man smiled, reeled in his line and came up to me. I was pleasantly surprised to see what he was fishing with. He was using a nymph pattern under a slip bobber. He explained to me he had shoulder surgery and was no longer able to cast his fly rod; however that didn't stop him from fly fishing!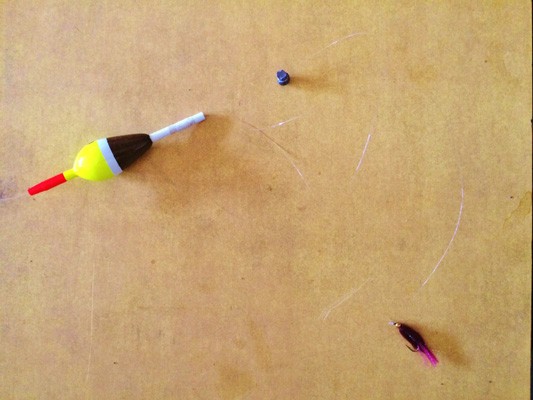 The method of using a spinning rod fly fishing isn't too much different than using a fly rod, except the angler is using the weight of the float to cast the fly out rather than the fly line and rod. When I ask newer anglers to come fishing with me they sometimes say, I don't fly fish nor do I own a fly rod. My answer to that is "no problem, I have an easy solution for you".
To fly fish with spinning gear you need a few key pieces of tackle that are readily available from any tackle shop.
Small Slip Float (bobber)
Small split shots
Swivels
Small Diameter Line for leader (less than 5lbs test)
Flies of choice
Think of fly fishing with spinning gear the same way as you would fly fish under an indicator. You're going to suspend the fly under the slip float. It is important to use a slip float so you can adjust the length of leader between the float and the fly. For example if you are Chironomid fishing in 15 feet of water, you want to set the bobber stop at 13 to 14 feet of leader line. This way the fly will be suspended just off bottom. The swivels and small split shots will help get your fly down in the water column. The same method can be used for when nymph or egg bead fishing rivers.
Want to fish a leech or wooly bugger pattern? No problem! Use a small float and a long leader approx. 8 feet, cast it out and slowly retrieve.
Fly fishing with a spinning rod is a great way to try fly fishing. It's an easy way introduce people to the sport, especially youth as they sometimes have a challenge casting a fly line out far enough. It doesn't really matter what method you choose to participate in the sport of angling as long as you are following the regulations and having fun!
Be sure to sure your fishing pics and adventures on our BC Fishn' Facebook page! 
Tight lines & please take a youth fishn'! 
Danny Coyne 
Danny@BCFishn.com