Water temperatures are dropping, but don't put away those reaction baits just yet. With temps in the 50s around the province (10 to 15 degrees Celsius), bass are feeding hard on baitfish before winter hits.
If you've read much about bass fishing in the U.S. you've heard that crankbaits are the penultimate fall bait. Shad are dying off in the southern lakes and that means anglers are slinging crankbaits in the backs of creeks to hard-feeding bass. Even though we don't have shad here in B.C., the same thing is happening.
Instead of shad, largemouth and smallmouth bass are feeding heavy on yellow perch, sunfish, shiners, pikeminnow, sculpin and crayfish. Crankbaits do a great job of imitating each of these prey options and this is the reason why they are a bait you should ALWAYS have tied on in the fall.
Picking the Right Crankbait
Now that you know why they are important baits for the fall, here is how to select the right one for the job.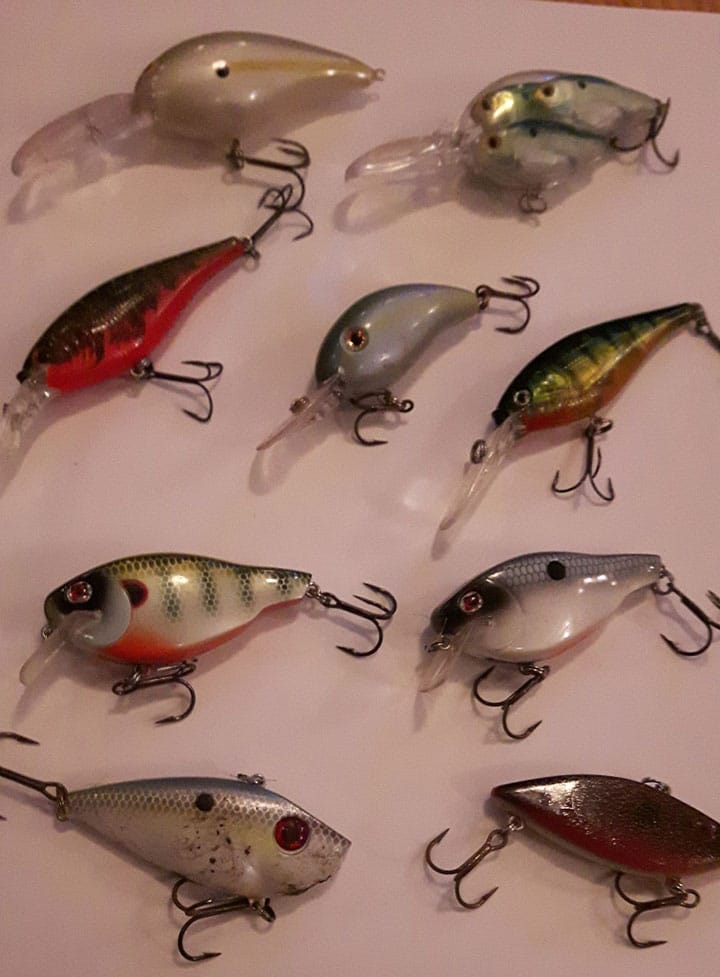 There are four basic types of crankbait: deep running, medium running, shallow running, and lipless. You can differentiate between the four by the size of the plastic lip sticking off the nose of the bait, the larger the lip, the deeper the crankbait will dive.
Crankbaits will tell you how deep they are supposed to dive on their packaging, but this number isn't exact. Factors such as line diameter and casting distance affect how deep a bait will dive. Thicker line and shorter casts will prevent a bait from diving to its labelled depth. If you want your bait to dive its deepest, use a thin-diameter line and make very long casts. Keep in mind, this will also lead to more baits being broken off and crankbaits can be expensive.
One of the rules of thumb crankbait fishermen like to practice is to use a bait that will dive deeper than the area they are fishing. This will cause the bait to bounce off the bottom, triggering strikes from active fish in the area. This works great for hard-bottomed spots, but isn't a good idea if there are weeds present.
Since baitfish are attracted to the safety which weedlines can offer, hungry bass will patrol weedlines in the fall in search of them. Use deep and medium-diving crankbaits in matching forage colours to target bass in these situations. This technique can be deadly for smallmouth bass on Vancouver Island and in the Okanagan in the late season. Largemouth will often stick to shallower weedlines, where lipless or shallow-diving crankbaits will be more productive.
Colour choice is simple. Pick the colour that matches the dominant forage in the lake. Not sure what that is? Rig up a spinning rod with a small jighead and live worm (a small rubber grub or tube will also do) and fish a weedline or other bassy-looking spot. Odds are it won't take long for the main forage fish to start nibbling and show themselves. The only type of baitfish it won't work for is crayfish, but you can still figure out if bass are keying in on crayfish by looking down their throats when you catch one. If you see claws sticking up out of the throat, they are eating crayfish.
The Rod and the Line
Getting set-up for tossin' cranks can be as simple as you'd like. A standard 6'6" medium-action spinning rod spooled with 10 pound test will do the trick just fine. However, if you really want to refine your crankbait game, it's time to polish off your baitcasters.
The ideal baitcasting set-up is a slower action baitcaster longer than 7 feet. The slow-action allows for better hooksets as the delay of the rod allows more give to allow the bait inside the fish's mouth. The longer rod also allows for more forgiveness in fighting fish. Bass are notorious for tossing crankbaits with their headshakes and jumps, especially near the boat. Having a longer, slow-action rod fixes all of these problems, giving you your best chance of landing the most bass as possible.
When crankbaiting became a serious subculture of bass fishing (led by pros such as David Fritts) in the early 90s, savvy anglers began to refine their approach even more. Baitcasting reels with a 5.4:1 gear ratio, rather than the popular 6:1 and faster reels, became the standard for cranking, as they forced anglers to fish slower despite the excitement and pressure of tournament fishing. Slower, wobbling crankbaits simply caught more fish.
If you are using lighter crankbaits, such as the balsa Rapala baits or smaller, shallow-running cranks, spinning rods are your best bet. Spinning rods cast light lures better than baitcasters, and the quiet, tight-wobbling balsa baits are popular as the water reaches the 40s (5-10 degrees Celsius).
Most medium-diving cranks, deep-diving cranks, and lipless cranks are best fished on a baitcasting outfit with 10 to 15 pound test. 12 pound test is a good all-purpose weight, as it has the strength to pull in big fish and get you out of trouble, but also the narrow diameter to get your bait down and cast a medium-sized bait a long ways.
My preferred crankbait set-up is a 7'3" fast-action rod with a 7:1 baitcasting reel and 12 pound test.
OK, ok. So I said that slow-action rods with 5.4:1 baitcasters are the best for cranking, and that may be true. However, I like to fish fast, and I love the feel you get with fast-action rods. I find that being patient while fighting fish can help you land the vast majority of crankbait bass with this set-up. Even though it's not the stereotypical crankbaiting rod and reel, this is the one that feels the best for me.
Ultimately, the set-up you use is up to you. Take these tips to heart, but it comes down to what feels best to you personally. Use the set-up that feels right to you.
A Few More Tips
Before you go, here are a few bonus tips to help you boat more fall bass on crankbaits next time out.
Mornings and evenings are the best time for a reaction bite, even in the fall. Years ago, I was fishing a tournament on Osoyoos Lake in mid-October. We caught our biggest bass each day within the first half hour on crankbaits, both over 5 pounds, then watched the crankbait bite die soon afterwards. If you are having a hard time finding luck on cranks, fish the morning and evening bites.
Bang your bait off everything. See a stick in the water? Cast past it and bang your crankbait off it. Dock pilings? Run into those too. Large, unidentified shape on the fish finder? Just do it. The lips of your crankbaits should be ground right down from banging off stuff. Cast confidently and work it aggressively and you will get far less snags than you might think for a bait with two trebles. Remember, the lip also works well to deflect the bait away from trouble.
Take long casts. I can't stress this enough. Longer casts will keep your bait down in the ideal running depth the longest and also increase the chances you will be casting to fish that don't know you are in the area yet.
 Don't give up. You could spend hours fishing the wrong type of water before running into a bonanza, especially with a crankbait. I don't know how many times I've almost given up on throwing a crankbait when all of a sudden I started loading the boat. All it takes is finding the right conditions to make it happen. Don't be afraid to change it up too. Deep-diver isn't working? Try a lipless. Shallow-diver isn't producing? Stick on a medium-diver. Sometimes going a few feet deeper makes all the difference.
Thanks for taking the time to read my article on fishing crankbaits to fall bass, if you take this advice and put it to use I guarantee you will catch more bass. These techniques will also catch fish in the spring and summer, and if you live on Vancouver Island or the Lower Mainland they will even work in the middle of winter. I strongly recommend catch and release for bass whenever possible. Let's keep this fishery healthy for our children to enjoy as well!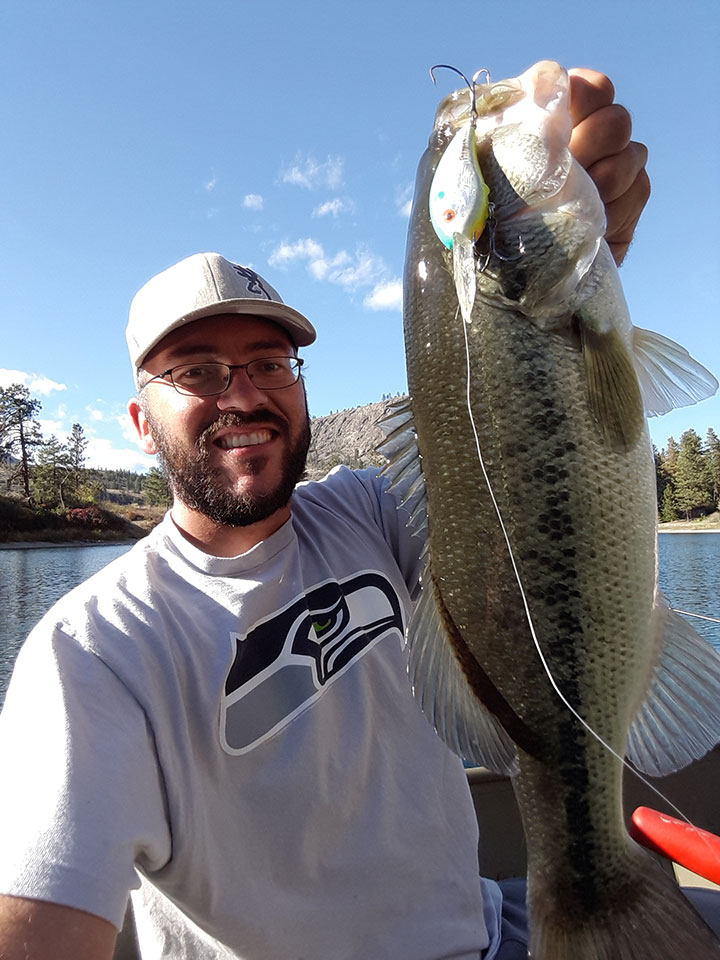 – Jesse Martin