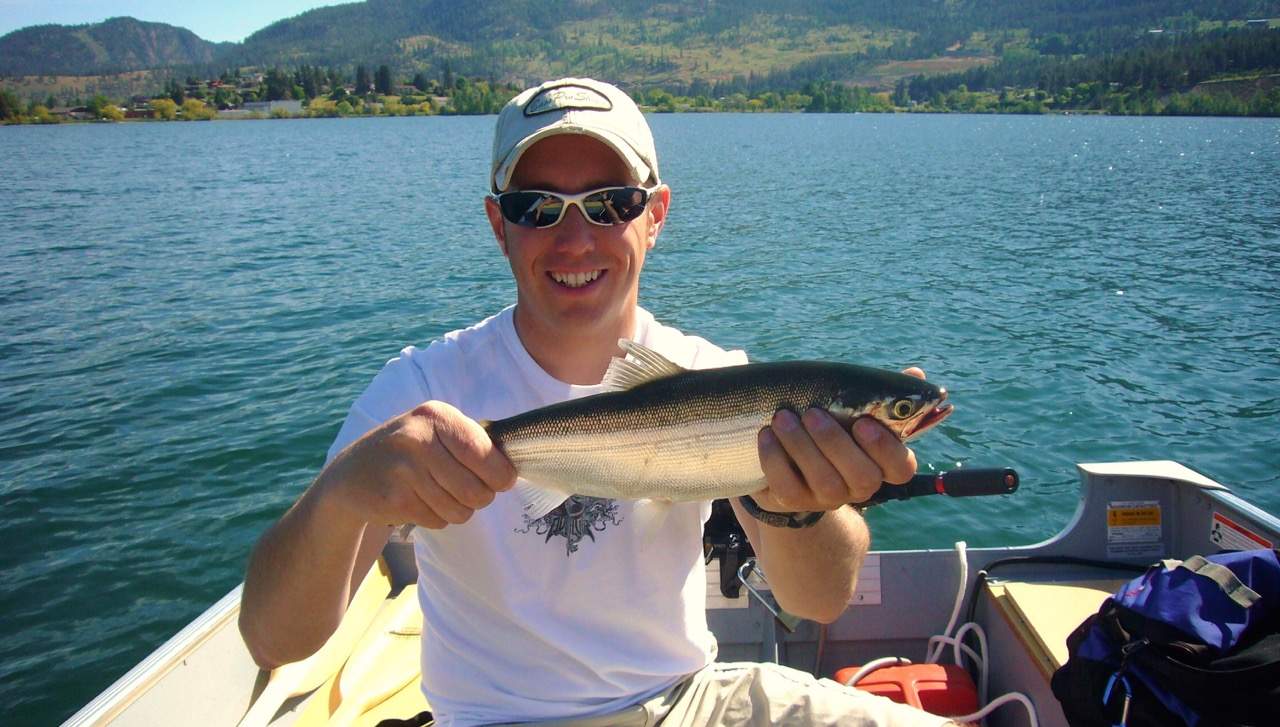 Most people wouldn't expect a lake that is nestled up against Hwy 97 N, between Kelowna and Vernon to produce great size Kokanee! In fact, if you drive by Wood Lake you would think this lake is more suited for Ski Boats and Wakeboarders. Wood Lake has a healthy level of Zooplankton which is a main source of food for Kokanee. Kokanee thrive in this lake!
Wood Lake BC is a great place to fish for these land locked Salmon beauties! I have been fishing this lake for the past 8 years and it has not yet let me down, majority of our days on the water we are pulling in our limit of 2 Kokane between 15 and 19 inches in length. Now for those of you that are not familiar with Kokanee, these fish normally don't get over 1 pound in most regions.
Wood Lake can be somewhat challenging to fish if you are not using the right techniques and fishing the right areas. Here are some BASIC patterns that any angler with a boat can use to get on these fish.
#1: Troll slowly and in an "S" pattern: If you were to sit from shore and watch me troll this lake you would think I had too many drinks! When I troll my boat I go straight for about 100 feet then crank a hard left and then a hard right. We get majority of our bites on the rod during the inside of the turn. Kokanee are a curious fish, they will follow your lure for miles! They won't usually bite until an erratic motions occurs such as the lure slowing down and dropping deeper in the water or when it speeds up. My wife thought that I was crazy when I brought the household mop bucket along on a fishing trip with us. I tie it to a rop and throw it behind the boat. This slows down our boat so that our lures are just spinning enough to make a full revolution. One of my boats is a 14 foot Lowe boat with a 5 horse 4 stroke, we still need the bucket to slow us down. Trust me it works! Our good old mop bucket has 100's of miles on it and plenty of fish in the boat.
#2 Bait and Lure: One of my my favorite set ups while trolling without downriggers and that seems to always produce for Kokanee no matter what body of water that I am on is the Lucky Strike Gang Troll Flashers, Silver Chrome with Colorado leaves and the Gibbs Rainbow Sparkler with a red hook. This combo also seems to be a winner! For the bait I also use pink maggots; not worm. If you use worm it seems to attract the Pike Minnows and White Fish than the Kokanee. The depth may very on the temp of the water. Spring time around April & May troll the surface with a few snap shots on the line. June to August I find that a 2 to 4 ounce weight with about 70 feet behind the boat does the trick.
#3 The North End: Wood Lake is a decent size lake and you can spend a better part of your day searching the lake to find the fish. I find that you can always count on the north end of the lake to produce. Troll the west side in the spring, across the lake east to west in the summer and the east side in September-October. Please check the regulations as there are restrictions on when you can fish near the shore lines due to the Kokanee spawning times. If you do catch a spawning Kokanee please help out the fishery and put it back so it can produce more chrome beauts for the future angler.
Enjoy this lake and the Kokanee it has to offer. The limit is 2 Kokanee per person and it has a selective fishery opening during the year so be sure to check the regs before heading out.Tight lines!
Lucky Strike Gang Troll & Gibbs Rainbow Sparkler- A Basic but effective Kokanee Presentation for Wood Lake